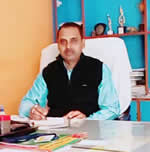 Evergreen World School stands for structure, stability and it's commitment to discipline. We also ceaselessly strive to keep abreast of our times to be able to create an environment of school that nurtures all the facilities of our children. Social, Physical, intellectual and emotional. We like our children to feel safe, well loved and secure in the understanding that every one of them is special.
The school is a place where children are encouraged to say "i see it, i get it, i can do it." Our philosophy of education has always been meeting the needs of the individual child. children acquire skills and knowledge easily if we can make the surrounding stimulating and purposeful.
We should not judge a book by the cover and a child from his report card Evergreen world school is working on all round development of child, it will take years to show some tangible results, but there is considerable progress in this direction.
The challenge right now with us is embracing modern schooling methods without forgetting our time tested teaching techniques to provide world class education.
Er. R.P.N. Singh
Director